It is extremely very important to give proper care to feet whenever you are suffering from diabetes. Improper and poor care for feet can results in amputation as most of people have seen with this problem. Would not it better to give some care for diabetic feet instead of getting paralyzed and helpless for the whole life? Here are some useful tips for diabetic feet that will surely result in having healthy feet even having diabetes.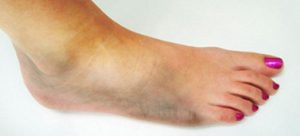 Daily Cleansing And Washing Feet:
You must wash and properly clean your feet on daily basis as cleanliness is mainly important to have healthy feet in diabetes. Daily washing and cleansing of feet involves in using mild soap for washing, warm water, just tapping dry skin, avoid rubbing hardly skin of feet and keep feet moisturized with good body lotion.
Daily Examine Of Feet:
You must be very conscious about your feet cleanliness and health and keep examining your feet daily. You must keep checking upper and lower part of feet thoroughly to avoid any problem. Examining feet daily include:
Keep checking dry and damaged skin
Look for any of sores, redness, cuts and scratches on your feet
Keep checking temperature of your feet
See any of corn ingrown toenails and any of calluses on your feet
Keep checking affect of wearing shoes and socks
Taking Care Of Toenails:
You must be very careful in cutting and cleaning toenails. Cutting nails after taking bath is good as nails get softer than before. Also use nail filer to cut nails straight and smooth. Don't cut corners of toenails. Also avoid cutting cuticles.
Exercise Carefully:
Doing some of workout and exercise is very important for diabetic patients but you must stay careful for your feet while doing exercise. If you have open sores in your feet unfortunately, avoid exercising and give proper medical treatment for open sores.
Make Use Of Proper Shoes And Socks:
You must be extra careful in choosing shoes and socks when you are diabetic. Use following tips regarding shoes and socks:
Avoid walking bare foot and always wear light weight shoes like slippers and hard soled footwear.
Avoid wearing shoes of high heels and pointing toes.
Select the most comfortable shoes and socks to wear.
Also avoid wearing open shoes and sandals as there are more risks of having injuries and wounds in wearing such footwear.
Use cotton socks.
Keep changing your socks daily.
Avoid wearing too much tight socks and shoes.
Flat shoes are best to wear.
Must wear special shoes if you are recommended by your physician.
You must also take good care of your feet generally as don't use cold and hot water to wash and rinse your feet. Avoid applying any chemical type of solution on your feet as beauty agent.
If you follow all the tips given above, you can surely be safe from any of mishap regarding your diabetic feet and can have healthy feet.